Vertical's NEW SBX IP 320 IP Enabled Telephone System made and developed by LG-Nortel, is the winner of the 2008 TMC Labs Innovation Award. It can be used as a regular digital phone system then when you are ready to go IP, simply add the VOIP card! Quality is built in!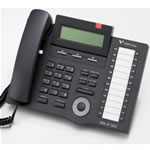 Developed in partnership with global electronics and telecommunications manufacturer LG-Nortel, the Vertical SBX IP 320 addresses your current and future communications needs by combining advanced telephony features, communications applications, unmatched ease-of-use, high reliability, and traditional as well as IP telephony at an extraordinary price point. No other communications system can offer the same value to a growing business. The Vertical SBX IP 320™ converged IP telephony system is a great choice for today's dynamic and growing single and multi-location businesses. Small businesses can easily benefit from the many advantages of its rich feature set, telephony applications, significant flexibility and cost-savings associated with Voice over Internet Protocol (VOIP).
The SBX IP 320 gives dynamic small businesses all the sophisticated communications features of a big-company PBX in a flexible, easy-to-use and cost-effective package. And it carries a 5 year warranty with free software upgrades.
The SBX IP 320 is loaded with features including:
It integrates seamlessly with your network, supporting users wherever they are.

Scalable to up to 48 total users per system and capable of networking up to 72 systems together.

It supports digital and IP phones, soft phones, as well as WIFI phones for mobile users.

This system uses the latest advanced Nomad IP WiFi wireless handsets - besides the office, these wireless IP WiFi handsets can be used at any 802.11B hotspots such as coffee shops and airports to access your office lines and phone system features without being in the office.

The SBX IP 320 supports both traditional and IP endpoints and trunking in a single system, so you can deploy VOIP immediately, or migrate at your own pace. Either way, the SBX IP 320 offers unmatched flexibility and value to meet the needs of your business.

It can deliver voice and data over a single IP circuit and its simplified architecture provides plug & play facility with full hybrid extensions with scalability up to 12 analog lines, 8 VOIP/SIP trunk lines and 32 digital and 16 IP stations in 3X8 increments!

Hybrid ports can be wired either as digital or analog extensions.