The Avaya Partner ACS system is the market share leader in its class and for very good reasons.
Avaya used to be Lucent Technologies and before that they were AT&T, which is evolved from the old Bell Labs, the people who invented telephones in the first place. Over the years, most of the other manufacturers have had to reinvent how their phones work, in order to get past AT&T's patents.

The Partner family of phone systems has been around since the late 1980s and set the standard that others copied early in the small business game. The Partner system is perfect for small to medium businesses from independent contractors to around 40 employees. It can support small doctors' offices and restaurants with as few as 2 phones and a voicemail card at one extreme, to medium sized accounting firms and law offices, manufacturing plants and service companies, with 40 to 50 employees connected, with up to 14 lines.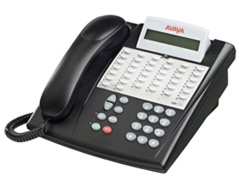 For quality versus price the Partner ACS family simply can't be beat. There have been 1.3 million of these systems sold and it has over 175 built in features. It's versatile, easy to use and can be adapted to almost any small to medium business. It's also very "teachable" in terms of an employee learning how to do the simpler programming tasks and becoming the in-house administrator for the phones and voicemail. Now there's value and control of the system, without most of the expensive service calls. What else could you want?
These are just a few of the features available on Partner phones:
A large enough display to show both the caller ID name and number at the same time.

The standard 18 button display phone has 16 buttons with lights and 4 without lights for programming features and auto dials.

The larger 34 button display phone is typically used as an operator console and there are Direct Station Select expanders too.

The model 3810 wireless system phone has great range, programmable keys and a nice display.

All Partner extension ports support analog phones and devices such as fax machines and modems. You get versatility with every extension port.

You can even plug in an "off the shelf", cordless, analog phone into the auxiliary port on the bottom of every Partner phone and now you have your extension walking around with you.

The ease with which newcomers to the Partner system can learn its use and even how to program their own buttons is phenomenal, it's very easy to make changes.
The Partner Messaging Voicemail system is very sophisticated for its class. Just some of the many features are: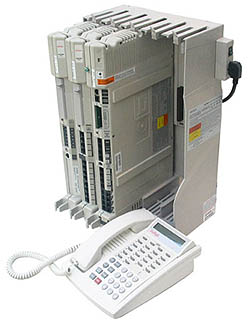 It can support up to 6 simultaneous users in the system for answering calls or retrieving messages.

There are 4 separate Auto Attendants that can each have control of separate sets of lines for multi tenant use if needed.

You can have up to 3 separate greetings recorded and select between them while logged into the box.

You can change the record mode of your mailbox to "Answer Only Mode" while on vacation, preventing the box from taking messages while you're gone.

There is the Outcalling feature where just minutes after a new message is left in your mailbox, the system then calls your cell phone and gives you an opportunity to log in to the mailbox and get your new message. Customers love this kind of response time.